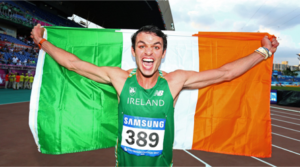 Thomas Barr is a 2016 Olympian in Rio and the current Irish National record holder of the 400m hurdles with a time of 48:65 seconds. This is his fourth National Championship title. In 2015, he won a gold medal at the World University Games, also in the 400m hurdles. After competing at the International Association of Athletics Federations (IAAF) at the 2015 Qatar Athletic Super Grand Prix, where he placed 3rd in the 400m hurdles, he was named European Athlete of the Month as well as Irish Athlete of the Year. Thomas Barr was a semi-finalist in the 2014 European Senior Athletics Championship and placed 5th in the finals of the 4 x 400m men's relay, setting a new Irish national record of 3:01.67. In 2013 he placed 8th in the U-23 European Track and Field Championship.
Thomas Barr graduated from the University of Limerick with a degree in Engineering and continued his education with a Master's degree, also at the University of Limerick, in Sport Performance.
He comes from a family of track athletes. His sister, Olympian Jessie Barr, competed in the 4 x 400m relay at the 2012 London Olympic Games, and, along with Thomas, is sponsored by New Balance.
Thomas competes in the 400m hurdles on Monday, August 15 at the 2016 Olympic Games in Rio.
Check out his Wee Chat here:
Youtube | Droid podcast | iTunes podcast | Direct link
Social Media Links:
Website: http://teambarr.com
Twitter: https://twitter.com/TomBarr247 #TEAMBARR #ROAD2RIO
Facebook: https://www.facebook.com/TeamBarr247/home