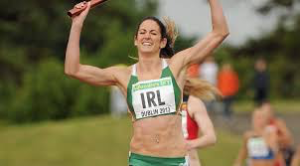 Jessie Barr is a 2012 Olympian in the 4 x 400m relay team, and Irish National 400m Hurdle Champion from 2011-2013. In 2013 at the World University Games, Jessie placed sixth in the final, and remains the U23 Irish Record Holder for that event with a time of 56.62. Also in 2012, along with running at the London Olympics, she was a finalist at the European Championships in the 400m hurdles. In 2011, she placed 5th in the finals at the European U23 Championships in the 400m hurdles and the semi-finalist at World University Games, also in the 400m hurdles. Jessie has had a difficult time with chronic foot injuries and being physically prepared in order to qualify for the 2016 Olympics, and unfortunately will not be running in Rio. She does come from a family of accomplished track athletes as her brother and another Wee Chat guest Thomas Barr, who competed in the finals of the 400m men's hurdles in Rio. He broke his own personal best, broke the national record and placed 4th place.
Jessie continues to give back to her sport and the youth of Ireland through mentoring young athletes through Sky Sports Living for Sport, an organization of athletes from various sports. Sky Sports strives to help young people develop their confidence and life skills, as well as get them moving and involved in sport.
Jessie completed her undergrad degree at the University of Limerick, went on to study for a master's at Bath University and now is a PhD student in Sport Psychology at the University of Limerick.
Check out his Wee Chat here:
Youtube | Droid podcast | iTunes podcast | Direct link
Social Media Links:
Website: http://teambarr.com
Twitter: https://twitter.com/jessiebarr247 @SkySportsLFS
Athlete Mentor. Supported by @Sensorpro, @Vitabiotics & @NewBalanceUK.
#TEAMBARR
Facebook: https://www.facebook.com/TeamBarr247/home
Sky Sports Living for Sport Mentoring Organization: www.skysports.com/livingforsport
Jessie's interview with them: http://www3.todayfm.com/Irish-athlete-Jessie-Barr-looks-ahead-to-2015