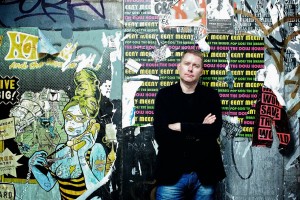 In this Wee Chat we talk to author and writer, Matthew Arlidge or as he is better known in the crime drama/thriller novel community, MJ Arlidge.  He has worked in television for the last 15 years, specializing in high end drama production. Arlidge has produced a number of prime-time crime serials for ITV in the last five years, and is currently working on a major adaptation of The Last of the Mohicans for the BBC.  He is now a very popular crime novelist having written various novels like Eeny Meeny and The Doll's House. In this Wee Chat He discusses the mental preparation he uses like motivation to write his novels along with his unique process of planning each novel.  His latest book Liar Liar has been released this month in the US after receiving much praise in the UK.
Matthew Arlidge was born in London in 1974, the youngest of four siblings. He grew up in Hampstead, North London, attending University College School from 7–18 years of age. In between school and university, he travelled extensively, teaching in a school in southern India, as well as visiting Singapore and Australia. On his return to the U.K., he studied for an English Literature degree at St Johns College, Cambridge. During this period he met his future wife, won the Douglas Chivers prize for outstanding Shakespeare scholarship and mastered the specialist skill of punting. He subsequently spent a year studying Film and Television Production at Bristol University.
His early career was in television production, starting at Eastenders, the popular BBC1 soap opera. He began life as a story liner, later graduating to become a script editor. After 18 months there, he left to work for Ecosse Films, a British Film and TV production company, spending two years story lining and editing their hit BBC1 series Monarch of the Glen, which starred Richard Briers and Susan Hampshire. He then moved into a new role as TV development producer with the same company, creating new shows for BBC/ITV/C4 such as Mistresses and Cape Wrath. The latter starred Tom Hardy, Felicity Jones and David Morrissey, whilst the former has been successfully remade for US television. In 2007, Arlidge left to set up his own production company, TXTV Limited, with colleagues Jeremy Gwilt and Chris Lang. He exec produced a number of successful British crime serials over the ensuing years, including Torn, The Little House and Undeniable. As well as developing his own shows for television, Arlidge also writes for well-established crime series, most notably Silent Witness.
Arlidge's first novel was published in May 2014. Eeny Meeny introduced a new British police officer, Detective Inspector Helen Grace. Arlidge famously pitched the first seven novels in the series to his publisher Penguin at their first meeting and other Helen Grace novels soon followed, including Pop Goes the Weasel (Sept 2014) and The Doll's House (March 2015). Several more Helen Grace novels are scheduled for release in the UK and other international markets, including the US, Germany, Italy, The Netherlands and France. His newest novel Liar Liar is set for release this month in the US after receiving much praise in Europe.
To find out more about the book or purchase it, click on this link: Click here
Twitter: mjarlidge
Facebook: https://www.facebook.com/MJArlidge-547797505337083