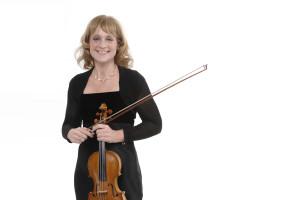 In this Wee Chat we talk to Catherine Arlidge, MBE. Catherine is a violinist and presenter for the prestigious City of Birmingham Symphony Orchestra (CBSO) in England.
Catherine began playing the violin at the age of 5. At 13 she started to study with Sidney Griller, Professor of Violin at the Royal Academy of Music in London. She went on to gain a Bachelor of Music degree at the University of Manchester. In 1987 she was awarded a Fulbright Scholarship and an Eastman Fellowship to study at the Eastman School of Music in Rochester, New York. She completed a Masters degree there studying with Zvi Zeitlin. On her return to England she concluded her studies with Felix Andrievsky at the Royal College of Music.
In 1990 Sir Simon Rattle appointed Catherine Sub-Principal Second Violin of the City of Birmingham Symphony Orchestra. Since then she has dedicated her professional life to performing, touring and recording with the CBSO, alongside a busy programme of educational activities off the concert platform.
Catherine presented the very first CBSO dedicated Family Concert in 1996, conducted by Sir Simon Rattle. Since then she has been a regular presenter of the orchestra's concerts for schools and families. In 2006 she created Notelets – a highly popular series of interactive performances for pre-school children. Soon to celebrate its 10th Anniversary, Notelets has evolved and developed enormously, inspiring the youngest audiences, parents, grandparents and the musicians themselves. She also works regularly in schools, exploring creative music making and composition, through collaborations with teachers, actors, composers, visual artists, authors and dancers.
The 2013-14 "Clock onto Safety" performances were a unique collaboration with DBS Law and Birmingham City Council, in which music and CBSO musicians were used to teach young children to cross the road safely. These performances were awarded a Jaguar Land Rover Business Champions for Arts and Business Award.
In January 2014 Catherine became the first violinist – and only the third ever recipient – of the Royal Philharmonic Society and The Association of British Orchestras' Salomon Prize, a prestigious award celebrating the outstanding contribution of orchestral players to the UK's musical life. 'A true advocate of the modern orchestral musician', she was awarded the prize for devising numerous projects which connect young people with classical music, for 'her great skill for motivating and inspiring colleagues, and for engaging with her audience.
Her latest creative adventure has been the formation of The Stringcredibles, a string quartet of CBSO musicians dedicated to inspiring creativity, supporting instrumental learning and connecting new audiences to culture.
Catherine has an interest in governance and is currently one of the two elected Player Trustees of the CBSO and she is also a member of the board of the Association of British Orchestras. She has published articles in Classical Music Magazine, Symphony Magazine and Arts Professional and has presented at conferences both nationally and internationally.
In January 2016 Catherine was awarded an MBE in the Queen's New Year's honours list, for services to music education.
To learn more about Catherine go to http://www.catherinearlidge.co.uk/, www.facebook.com/catherine.arlidge  , twitter.com/cath_arlidge