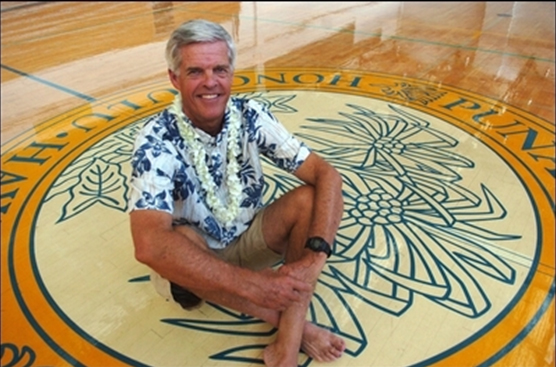 Since he graduated from Stanford University in 1968, Chris McLachlin (or CMac as he is affectionately known) has had a storied coaching career in his native Hawaii, winning a combined 14 state championships in boys' volleyball and basketball.
McLachlin spent 37 years as a coach, administrator, counselor and teacher at Punahou School in Honolulu, his alma mater. He coached the boys' volleyball team to 11 state titles and the basketball team to three. Among his basketball players on the state champion 1978-79 team was future U.S. President Barack Obama, and the two reunited at the NCAA champions celebration on the South Lawn of the White House over 30 years later. After having some health issues, President Obama was quick to enquire about Chris' health and give him a welcoming hug in the Oval Office.
McLachlin left coaching in the mid-1990s, but remained at Punahou until retiring in 2007. For most of the past 25 years, he has served as the TV color commentator for University of Hawai'i men's and women's volleyball.
McLachlin was lured back into coaching at Stanford by head coach John Kosty, and supplanted from his home on O'ahu's Manoa Valley. McLachlin's son, Spencer, was outside hitter and team captain at Stanford. Chris McLachlin returned to Stanford for his second of his second stint as a program coach. Going back to the program's infancy as a club team in the 1960's, McLachlin is credited with not only saving it as a player-coach, but building it up to the point of receiving varsity status.
McLachlin has also specialized in team building and the mental training aspects, as well as contributed to game-planning and strategy.
To contact Chris, go to his LinkedIn page: https://www.linkedin.com/pub/chris-mclachlin/23/1b2/746