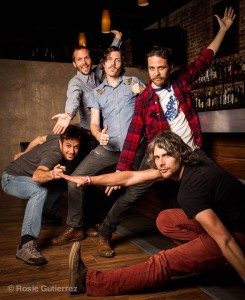 In this WeeChat we talk to San Francisco's own Americana/bluegrass/folk band, The Brothers Comatose.  They help give us insight into the mental preparation that occurs when going on stage to perform, working on a new album and life on the road with your best mates.  Join us and see why they have wowed various crowds with their high energy and audience engaging shows from San Diego to Seattle to Silk Hope, NC and beyond.
The band is comprised by brothers Ben and Alex Morrison, who play the guitar and banjo, and lead vocalists.  Along with bassmaster Gio Benedetti and stellar accompanists Philip Brezina on fiddle and Ryan Avellone on madoline.
The Brothers Comatose began their musical journey from a young age. Band members Ben and Alexwere surrounded by music from a young age their mother was in a folk quartet.  They would watch the quartet's band rehearsals and music parties. It was only a matter of time before the brothers picked up some instruments of their own.  Ben began playing his dad's acoustic guitar, while Alex picked up a banjo which someone had left behind during one of those music parties.
As they learned classic rock covers in the following years they eventually came to a conclusion of their genre of choice, broad-stroke Americana.  They were later joined by Benedetti who had been studying upright bass and joined the band. They knew they needed a few more pieces to complete the band and posted fliers around San Francisco. This led to Philip Brezina's incorporation while he was getting his Master's degree in violin performance from the Conservatory of Music.  Having shared bills in the past with Avellone over the years they decided to give him a call and then found themselves with their mandolin player.
This would be the start to the Brothers journey proceeded with the release of their two critically acclaimed records: Songs From The Stoop (2010) and Respect the Van (2012).  This led to extended tours with Devil Makes Three, Yonder Mountain String Band and Lake Street Drive. This steered the band to headline their own club tours and festival appearances like High Sierra, Delfest, Outsidelands and Pickathon.
Now-seasoned road warriors they returned to their San Francisco to write their third record in the Haight-Ashbury neighborhood.  They drew inspiration from the change occurring within the city from an art friendly mecca to an area that only super rich tech workers could afford. As they saw venues closeas well as their fellow artists and musicians having to move away they continued to draw inspiration from it. This led to their song City Painted Gold and the new name of their record.  The new record is "infused with a sense of relaxed, experience confidence, The Brother Comatose offer a southwestern-tinged, rowdy stringband sound that might just make this your new favorite record before you turn it over to side B."