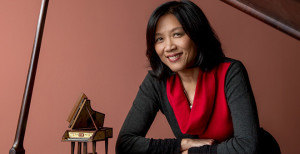 In this WeeChat we talk to Dr. Gwendolyn Mok, a world renowned pianist and current Coordinator of Keyboard Studies at San Jose State University School of Music and Dance. She is a New York native who loves playing the piano and learning about their history as well. Her passion for performing has rewarded and allowed her to perform on various stages around the world. She talks about the mental side of being a professional pianist and performer. Gwen mentions how preparation is important to her along with her pre-performance routine which at times can include a pan. Listen to her also discuss the similarities and differences between athletes and musicians.
Born in New York, Gwendolyn has appeared in many of the world's leading concert halls including The Barbican, Carnegie Hall, The Kennedy Center, Avery Fisher Hall, Alice Tully Hall, and The Hong Kong Performing Arts Center. She is also frequently invited to play and record with major international orchestras most notably The London Symphony, The Philharmonia, The Hong Kong Philharmonic Orchestra, The Beijing Philharmonic Orchestra and The ResidentieOrkestre of The Hague.
In his 90th year, VladoPerlemuter chose Mok to be the last student to whom he would pass on his knowledge of Ravel. In 1927, Perlemuter –a student of Ravel's– sat at the keyboard of his tutor's Erard grand piano and worked his way through Ravel's entire oeuvre along with the composer. In 1994, the French Ministry of Culture awarded Ms. Mok a grant to study with Perlemuter for one year. Since 1995, Mok has been performing Ravel's works in recital and was invited to teach these works at the Royal College of Music, Welsh College of Music, The Dartington International Summer School in Devon, and The San Francisco Conservatory of Music.
Gwendolyn is a recording artist for Nonesuch/Elektra, Musical Heritage Society, Cala Records, and EMI. She can also be heard on several movie soundtrack recordings of music by Maurice Jarre. Her highly acclaimed debut CD with The Philharmonia of Ravel's Piano Concerto in G Major (released on the Cala label) was nominated for an Alternative Edison award in the concerto category. A second CD of Saint Saen's Africa-Rhapsody for Piano and Orchestra with the London Philharmonic has been equally applauded and is broadcast frequently.
Website: http://www.gwendolynmok.com/