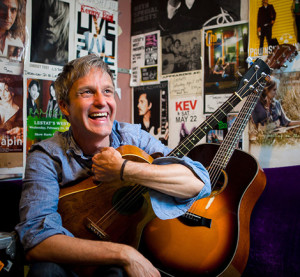 In this Wee Chat we talk to Steve Poltz, a Canadian born singer and songwriter. We have all at one point or another probably heard one of his songs on TV or the radio as his songs have been amongst the longest running ever on the Billboard Top 100 and they regularly appear in movie soundtracks, television shows, and even the odd commercial. He talks to us backstage before a gig at Slim's in San Francisco about the mental side of being a professional musician. He mentions how he prefers to have uncertainty rather than a set playlist for his shows and with no routines. This transfers to his shows where the crowd, along with him, do not know what to expect; he only relies on what is in his control, which is the music. This is an excellent skill that we love working on with performers. He makes each show unique in order to keep things spontaneous for himself and the audience. Listen to how he credits his success to the positive thinking that was taught to him by his father, this is a great example for us interested in mental skills for performance. This Wee Chat was a lot of fun, so enjoy listening to Steve Poltz's brilliance and his many stories!
Born among the hearty seafaring folk of Canada's Halifax, Nova Scotia, Poltz has lived most of his life in Southern California. Steve Poltz is regarded as one of the most talented and prolific songwriters of our time. His touring schedule is ferocious, ping ponging between continents with enough frequency to earn him manic followings in scores of different accents and languages.
To see Steve to perform live is one of the most entertaining shows a human could ever see. Frenzied, aggressive, hilarious, and heartbreakingly sincere, his live performances have become bona fide events, with sub-cultures popping up all over the globe to entice him to come and tour. As relentless as he is in concert, he is also the guy who famously co-wrote the timeless ballad "You Were Meant For Me" with platinum-selling songwriter Jewel.
Poltz' solo body of work is an impressive collection of ballads, rockers and uniquely melodic acoustic numbers that reflect his incomparable style of alternate tunings and savage finger picking techniques. His albums reflect the depth and expanse of his influences throughout the years (One Left Shoe, Chinese Vacation, Traveling and Unraveling). He has also released a children's album (The Barn), a performance DVD (Tales From The Tavern) and a collection of other recordings that defy categorization, such as Answering Machine – a 56-track collection of 45 second "songs" culled from his answering machine's outgoing messages. Neil Young has ranked it as a favorite album.
Steve Poltz's latest recording project brought him back to Halifax, where he collaborated with Joel Plaskett, an award-winning Canadian songwriter, performer, producer and eminently kindred spirit. The two holed up in Joel's Scotland Yard studio with a 2 inch,16 track analog tape machine, a 24 hour work ethic, their comfy clothes, and all the mojo they could conjure. The result was Dreamhouse," Steve's most accomplished and focused album to date. Critically acclaimed across the globe, it has been singled out by some critics as the 2010 Album of the Year.
Twitter: @stevepoltz
Facebook: https://www.facebook.com/stevepoltz
Instagram: @stevepoltz
Website: http://poltz.com/
YouTube: https://www.youtube.com/user/polioboy23