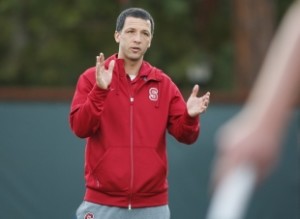 Paul Goldstein, Head Men's Tennis Coach at Stanford University and former pro tennis player
Paul is a former top collegiate player for Stanford and went on to have an impressive pro career in tennis. He is now the Taube Family Director of the Men's tennis team at Stanford University in California.
A native of Rockville, Maryland, and a 1994 graduate of Sidwell Friends School in Washington, D.C., Goldstein was ranked among the top-10 juniors in the world and made USTA history by becoming the first player to capture three consecutive national championships (Boys' 16 in 1992, Boys' 18 in 1993, Boys' 18 in 1994) in Kalamazoo, Mich. Goldstein then enjoyed a stellar collegiate career from 1995-98, leading the Stanford Cardinal to a 104-6 overall record while becoming the first player in NCAA history to compete as a starting member of four consecutive national championship teams. Goldstein was honored as an All-American in each of his four years. Goldstein capped his career with a Pac-10 Player of the Year honor in 1998 after winning 33 of his 35 overall matches.
The first-ever two-time recipient of the ITA's Arthur Ashe, Jr. Sportsmanship and Leadership Award (1997, 1998), Goldstein was also recognized as the ITA's Rafael Osuna Sportsmanship Award recipient in 1997. Goldstein was inducted into the ITA Collegiate Tennis Hall of Fame in May 2013 and currently serves on the ITA Hall of Fame Committee.
Goldstein received his B.A. in human biology from Stanford in 1998 before embarking on an impressive 10-year professional career.
After moving into the world's top-100 in one year on the professional circuit, Goldstein's ATP world rankings eventually reached as high as No. 58 in singles and No. 40 in doubles. A US Open doubles semifinalist in 2005, Goldstein also boasts career singles wins over current world No. 2 Novak Djokovic, James Blake, Mardy Fish, Lleyton Hewitt and Patrick Rafter. Goldstein was the highest ranked player in the world with a college degree for the majority of his professional career.
Goldstein was introduced on in June 2014, as Stanford's first Taube Family Director of Men's Tennis. The 10th head coach in school history, Goldstein followed a successful 10-year stint by John Whitlinger. Goldstein made an immediate impact, recognized as the ITA Northwest Region Coach of the Year and Stanford's first Pac-12 Coach of the Year since 2006. In just his first year as a Head Coach, Paul Goldstein led Stanford to one of its best seasons in recent memory.
(photo credit: Photo by David Elkinson/Stanfordphoto.com)