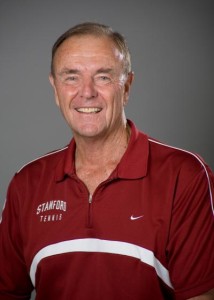 Dick Gould was the Men's Tennis Coach at Stanford University for 38 years from 1966–2004. His Stanford men's tennis teams won 17 NCAA Men's Tennis Championships, and 50 of his players won All-American honors. He was named the ITA-Wilson "Coach of the Decade" both for the 1980s and the 1990s. Players he has coached at Stanford include John McEnroe and Bob and Mike Bryan.
During Gould's tenure as head coach at Stanford, 50 of his players were selected as All-Americans. Nine of his Stanford players, have gone on to be ranked among the top 15 in ATP world singles rankings.He has also coached 14 players who have reached top 10 in ATP world doubles rankings, including No. 1 ranked doubles players, McEnroe, Jim Grabb, Jonathan Stark, Alex O'Brien, Jared Palmer, and Bob and Mike Bryan.
Stanford's 1998 team coached by Gould is regarded as "perhaps the best college team ever."[5] The 1998 team finished its season with a perfect 28–0 record, lost only two singles matches and one doubles point during the entire season, and won all four of its NCAA matches without losing a point.
Gould is also the author of the tennis instructional book, "Tennis Anyone?",which was published in 1999.
In 2004, Gould stepped down as the head tennis coach, but he has remained active at Stanford since 2005 as the John L. Hinds Director of Tennis.
You can follow Dick on Twitter @dick_gould