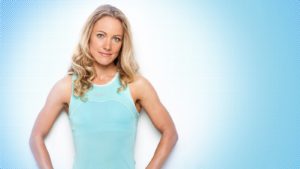 In this Wee Chat from the vault from 2012 we talk with Lesley Paterson, three-time off-road World Champion triathlete as she reflects on her second world championship win in Maui.
As an elite triathlete, Lesley has found her passion, competing and winning throughout the world, with her best events now coming in the off-road arena. She specializes in the Xterra races consisting of a lake or ocean swim, off-road biking, and a trail run. In 2015 alone she accrued five 1st place Pro Women Xterra finishes, with winning both the men's and the women's division in the Laguna Beach Xterra course, she's totally amazing!
Lesley has a rich history of diverse accomplishments and passions. Originally from Scottish roots, Lesley grew up tough and strong playing rugby in an all-boys squad, whilst also practicing and enjoying dance. These diverse interests allowed her to transition into triathlons using the mentally and physically tough environment of the rugby fields, and the rhythmic flow of dance as she swims and bikes, establishing a strong basis for her triathlon accomplishments.
Lesley's disciplined pursuit of personal best is carried over with her diverse interests and passions that led her to complete a Master's degree in Theatre. She has written, produced, and/or acted in over 17 independent films, including the screen play for All Quiet on The Western Front and a smaller film titled Something Blue.
Lesley and her husband, sport psychology expert Dr. Simon Marshall, own and operate BraveHeart Fitness Coaching based out of San Diego, CA. Together they form a formidable team offering the complete mental and physical package capable of assisting athletes in their pursuit of personal excellence, guided by their dedicated support and service to their clients.
During the swim and the bike Leslie speaks of her movement being an artistic rhythm, flowing as she has become so skilled at what she does. During the running portion of her race she is more primal, being in touch with the earth.
She talks of association and disassociation strategies, and regulating her level of intensity through asking herself if she is working as hard as she possibly can. And Lesley speaks of the struggles when things are bad and there being a feeling of being disconnected from her body, and the strategies she has used to overcome challenges physically and mentally, while always striving to keep her pursuit in perspective in life.
Check out the Wee Chat here with the original Wee Chatter
Websites: http://www.lesleypaterson.com
Email Contact: http://www.lesleypaterson.com/contact/
Twitter: @lesleydoestri